About Me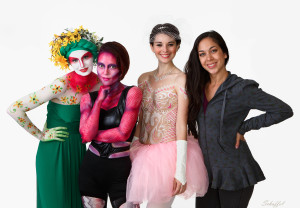 Anna Lani entered the makeup industry at the University of Texas in the Wig Department of the Performing Arts Center. After graduating Magna Cum Laude with a focus in Wig Making and Makeup Design, Anna Lani relocated to British Columbia to attend the Makeup Design for Film and Television program at the Vancouver Film School. While there, she received the "Student of the Year" award, demonstrated at the International Makeup Artist Trade Show, and was awarded a coveted internship at the Lindala-Schminken FX Studio.
Once back in Austin, Anna Lani received multi-brand training working for Sephora and W3LL People, and became a MAC Cosmetics certified artist and a member of their Tier 2 Impact Team.  While working at MAC, Anna Lani also became an assistant at Hawgfly Productions, the largest Special Effects house in Texas. Now, Anna Lani is a full-time freelance artist with experience in film, television, bridal, print, commercial, fashion, and live event hair and makeup services.
Anna Lani's work has been published in Make-up Artist Magazine and on the covers of both Texas Monthly and the Austin Chronicle. Her commercial clients include Reebok, Dell, and Whole Foods and she has held the position of Lead Artist on several campaigns, including: Rejuva Minerals Cosmetics, Torchy's Tacos, and Eleanor Rose/Kelly's Kids clothing company. She has made on-screen appearances for Good Day Austin, Rejuva Minerals' tutorial videos, and Hob Nob Wines "Wicked Red" campaign. Anna works with politicians, athletes, musicians, and celebrities and has been a Key Artist for Owen Egerton's film, FOLLOW, HBO's series, THE LEFTOVERS, and Rooster Teeth's mini-series, 10 LITTLE ROOSTERS.
Anna lives in Central Texas with her husband, dog, and two cats. She loves watching movies and reading, particularly in the historical fiction, sci fi/fantasy, and thriller genres. She loves Italian food, Lisa Frank, thunderstorms, animals, music, and her favorite color is rainbow. In her free time, Anna loves sewing and craft projects, attending Renaissance festivals, and adding new skills to her repertoire!